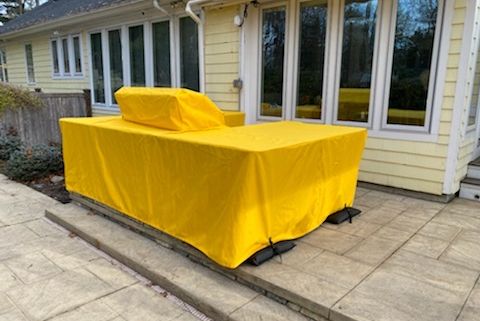 Enhance and Protect: Why You Should Consider Buying a Custom Cover
When it comes to protecting our valuable possessions, be it a car, boat, or furniture, we often seek solutions that not only provide reliable protection but also reflect our personal style and taste. That's where custom covers come into play. In this article, we will explore the numerous benefits of investing in a custom cover from Atlantic Covers & Beyond. Whether it's durability, a perfect fit, or aesthetic appeal, custom covers offer a range of advantages that make them a worthwhile investment. Here are the greatest benefits you can acquire:
Superior Protection:
One of the primary reasons to consider buying a custom cover is the enhanced protection it provides. Generic, off-the-shelf covers may not offer the same level of defense against various environmental elements such as harsh weather, UV rays, dust, and debris. Custom covers, on the other hand, are designed specifically to fit your vehicle, boat, or furniture, ensuring a snug fit that leaves no room for exposure. The high-quality materials used in custom covers, such as durable fabrics and weather-resistant coatings, provide an additional layer of protection against wear and tear, extending the lifespan of your cherished possessions.
Perfect Fit:
A key advantage of custom covers is their ability to provide a perfect fit for your specific item. Generic covers often lack the tailored design required to snugly cover every contour and detail of your vehicle or furniture. Ill-fitting covers may leave gaps or become loose, allowing dust, moisture, or sunlight to seep in, thus compromising protection. Custom covers, however, are meticulously crafted based on the precise measurements and specifications of your item, ensuring a seamless fit that leaves no room for vulnerability. This tailored fit not only enhances protection but also provides a visually appealing appearance.
Personalized Style:
Why settle for a generic cover when you can showcase your personal style and taste with a custom cover? Atlantic Covers & Beyond offers a wide range of customization options, allowing you to choose from an array of colors, patterns, and materials. Whether you prefer a sleek and minimalist design or a vibrant and eye-catching one, custom covers give you the freedom to express yourself and make a statement. With a custom cover, you can turn a mundane necessity into a stylish accessory that complements your unique aesthetic preferences.
Convenience and Ease of Use:
Another benefit of custom covers is their convenience and ease of use. Unlike generic covers that may require tedious adjustments or struggle to stay in place, custom covers are designed to be user-friendly. The tailored fit ensures easy installation and removal, saving you valuable time and effort. Additionally, some custom covers feature convenient add-ons such as straps, buckles, or tie-downs to provide extra security and stability. With a custom cover, protecting your possessions becomes a hassle-free task.
Investing in a custom cover from Atlantic Covers & Beyond offers a multitude of advantages that make it a wise choice for protecting and enhancing your valuable possessions. From superior protection and perfect fit to personalized style and convenience, custom covers offer a comprehensive solution that meets both practical and aesthetic needs. By choosing a custom cover, you can enjoy peace of mind knowing that your vehicle, boat, or furniture is shielded from the elements while reflecting your unique taste and style.
Please schedule your complimentary home consultation to explore how we help you!
Please call us at tel:781-665-4040
https://atlantic-covers.com/wp-content/uploads/2022/11/7.jpg
360
480
Paul Carroll
/wp-content/uploads/2022/11/atlantic-covers-logo-transparent-small.png
Paul Carroll
2023-06-06 08:38:06
2023-06-06 08:38:07
Enhance and Protect: Why You Should Consider Buying a Custom Cover